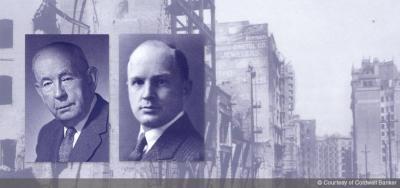 Coldwell Banker® was founded in 1906 when Colbert Coldwell, a young real estate sales associate, observed families trying to piece their lives together following the disastrous San Francisco earthquake.
Disapproving of sales associates who acquired property from vulnerable sellers and then resold it at huge profits, and seeing a need for honest, knowledgeable real estate professionals, he formed his own company.
Coldwell Banker has entered its second century in real estate and continues to offer clients a level of service and resources of which Colbert Coldwell and his partner Benjamin Banker would be proud.
ColdwellBankerHomes.com is owned and operated by NRT LLC, the nation's largest residential real estate company. As a subsidiary of Realogy Corporation, NRT has more than 700 offices, 41,300 independent sales associates and 4,600 employees operating in 35 major metropolitan areas. NRT operates Realogy's company-owned real estate brokerage offices.
Colorado website: https://www.coldwellbankerhomes.com/
National website: coldwellbanker.com
International luxury homes website: coldwellbankerpreviews.com