Back to Calendar
Motown Haunted Prom – Halloween Dance Party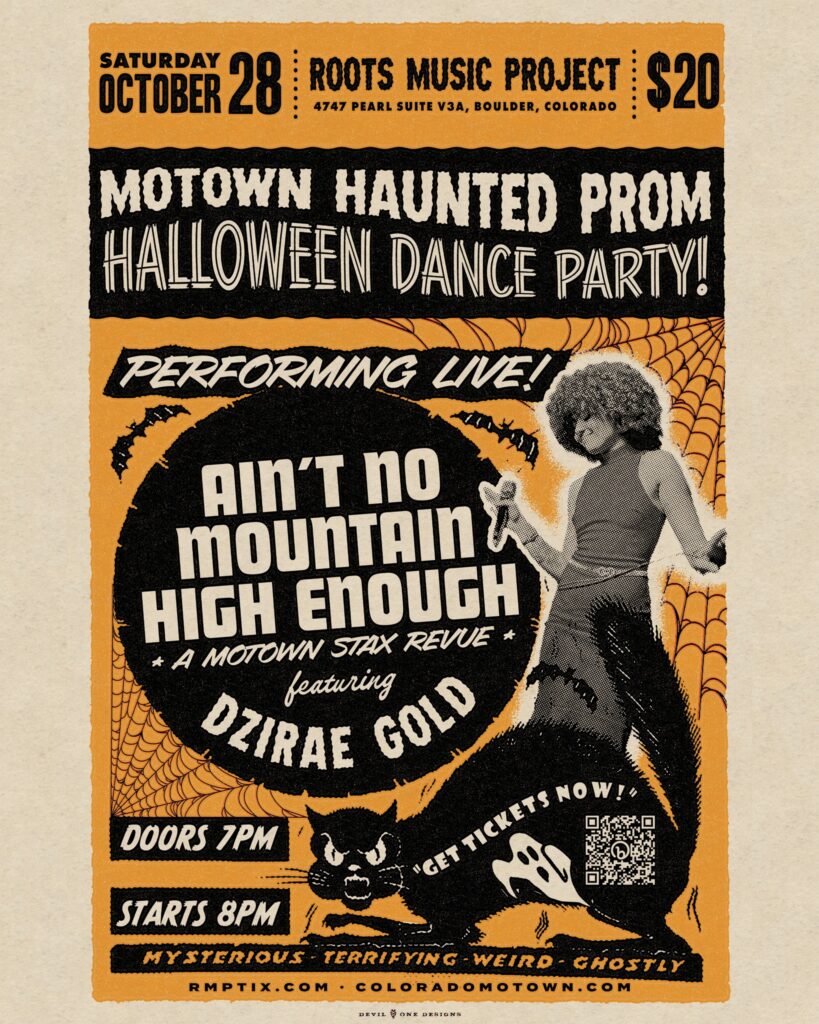 October 28, 2023
7:00 pm - 11:30 pm
4747 Pearl Suite V3A




Boulder

,

CO

80301

United States
Visit Site
Welcome to the Motown Haunted Prom, the ultimate Halloween dance party! Get ready to groove and boogie in your spookiest costumes on Saturday, October 28, 2023 at 4747 Pearl Suite V3A, Boulder, CO 80301. This in-person event promises a night filled with thrilling music, wicked fun, and a hauntingly good time. Dance the night away to the iconic Motown and Stax Record hits that will keep you on your feet all night long. So, grab your friends, put on your best costumes, and join us for a frightfully fantastic evening at the Motown Haunted Prom. Don't miss out on this unforgettable Halloween celebration!
Featuring Denver soul singer Dzirae Gold on female vocals and special guest "Detroit" Daryl Smith on guitar who has the distinction of playing alongside many of the original Motown and Stax Records artists including the Marvellettes, the Contours, Mary Wilson from the Supremes, and Otis Williams from the Temptations!
Leave your worries behind as we sing, dance, and celebrate the undeniable, feel good vibes of the classic songs by artists such as the Supremes, Martha Reeves & the Vandellas, the Temptations, Marvin Gaye, Sam & Dave, Otis Redding and many more. The band stays true to the classic vibe of the original songs but also veers off into something that is fresh and exciting for music fans of this generation. Dress up, sing, and dance as the band kicks off Halloween weekend with the nostalgic sounds of sweet soul music.
Facebook: @motownstaxrevue
Instagram: colorado_motown
Web: ColoradoMotown.com
"The lead singer Dzirae Gold is a dead ringer for Diana Ross. It is amazing that the band can sound so close to the original sound of the Motown artists of the 60's and early 70's." – Pat Downey, host of the KBCO Morning Oldies from 1982 to 1994
"Ain't No Mountain High Enough brings a renewed spirit to some of the best music ever recorded. And they bring the fun. Every time I have seen them the dancing has been non-stop and the smiles have lasted long after the music ends." – Charles Hale, host of the Ajax Diner Book Club on KRFC and owner of Driver 8 Records, Fort Collins
Band Members:
Dzirae Gold – Vocals
Jon Oren – Drums and Vocals
Daryl Smith – Guitar and Vocals
Gavin Worland – Trumpet
Ian Arras – Keys
Stephen Angus – Saxophones
Brian Keating – Bass
Doors 7:00pm. Show 8:00pm (2 sets, an audience costume showcase, and photo backdrop)
HAUNTED HAPPY HOUR! 25% OFF DRINKS FROM 7P TO 8P
Full bar on premises; Plenty of free parking; Lyft and Uber friendly!
NEW! 2 Premium Seating Pods: Reserved comfortable seating for a group of 6 people. (Each pod includes a couch and two comfortable lounge chairs for your group to relax and enjoy the show.)
ABOUT ROOTS MUSIC PROJECT
Roots Music Project is a non-profit local music incubator based in Boulder, Colorado. We believe in the power of music to make the world a better place. All music starts locally. We empower artists, fans, and venues to connect and create a thriving and inspiring local music scene. RootsMusicProject.org
4747 Pearl St, Ste V3A Boulder, CO 80301
Complimentary koozies for the first 130 people through the door so come early for the "Haunted Happy Hour" from 7p to 8p for 25% off bar drinks.
Free parking and Uber/Lyft friendly all night long. Grab your friends, put on your best costumes, and join us for a frightfully fantastic evening at the Motown Haunted Prom.